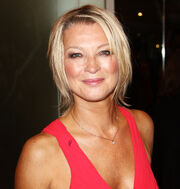 Gillian Taylforth (born 14th August 1955 in Islington, London) is a British actress best known for her role on EastEnders as the hoarse-voiced Kathy Beale. She was apart of the original cast members and made her debut in the first episode of the show. She remained as a regular cast member until April 1998 when she made her first exit from the show, although making several guest appearances in 1999 and 2000 before leaving the show full-time. After fifteen years away from the show and her character being subsequently killed off-screen in 2006, Gillian returned to the role of Kathy in February 2015 and her return was aired in the 2015 live episode, since then she has remained in the role.
Ten years before making her East End debut, Gillian managed to combine two parallel careers as an actress and personal secretary. For nine years she worked as a secretary in a firm of solicitors, but she eventually left when her acting career was taking up most of her time.
Her professional debut was in the BBC TV Play for Today Eleanor, and in 1984 she played a model in The Gentle Touch for LWT. Her television roles have been quite varied. She played Rose in one episode of Hi De Hi. Afterwards, she appeared in the BBC comedy series Big Jim and the Figaro Club as Dish Mop, the village scrubber. Her talent for comedy has also been seen in The Rag Trade and Shelley on ITV and the BBC's Swink or Swim series. She also worked with Chris Biggins on Watch This Space and two series of On Safari. Gillian and her sister, Kim, both appeared in the BBC play Zigger Zagger and when Kim was cast in the feature film The Long Good Friday, her sister was just off to America and instead nominated Gillian for the part, and she got it.
Since she left EastEnders full-time in 2000, Gillian appeared in the television series The House That Jack Built as Maxine Squire and in the regular role of Footballers' Wives as Jackie Webb. She also had regular roles in The Bill as Sgt. Nikki Wright and Hollyoaks as Sandy Roscoe before making her return to EastEnders in 2015.
Community content is available under
CC-BY-SA
unless otherwise noted.